ANCEL HD3100 Pro Full System Heavy Duty Truck Diagnostic Scanner OBD2 Diesel Scan Tool with DPF Regeneration Compatible for Volvo Mack International
US Free Shipping. Order in the next
[totalHours] hours %M minutes
to get it between and
DESCRIPTION


ANCEL HD3100 PRO is a full-system diagnosis developed for American heavy-duty trucks. This scanner is a high-ranking code reader that supports private protocol in addition to standard diesel OBD protocols. Exclusive DPF regeneration-the nemesis of DPF blockage. Diversified one-key multi-functions and upgraded interfaces are also unimitation of the entry-level diagnostic tool on the market.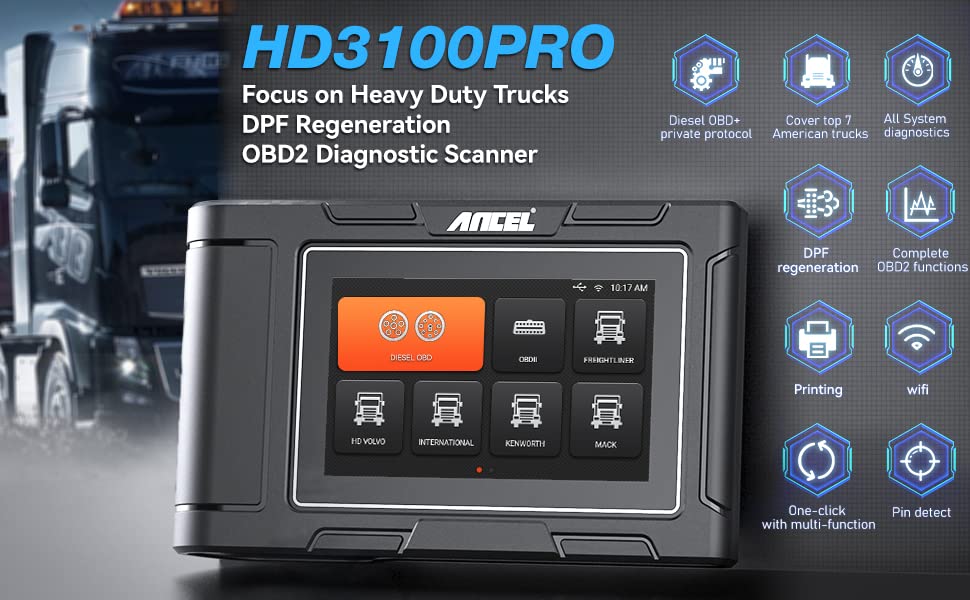 Diagnose your heavy duty trucks with confidence
Available system(full) that can be tested includes
Power Transmission:

 

Engine, Transmission, Battery/SCR, Construction engine, Hybrid, VCS (Vehicle Computer Simulation), Integrated Control, Integrated Security System, Motor Control.

Chassis:

 Anti-lock braking, Wheel Brake Special System, Retarder.

Carbody:

 

SAS, SRS, ABS, TPS, Immobilizer Airbag, SWS (Smart Writing System), ASR, EBS, ESCOT, ESP, EPS, AT System, Smoother, HSA/ CFS, BCM, MIMAMORI, Vehicle Interface Module, UDS, Gas Treatment, DCU/ BCU, Blocker, Passive entry and start system, Instrument System, Suspension System, Brake System and so on.
Available Special functions include: DPF regeneration
Diesel is more particulate than gasoline, and the particles are more difficult to fully burn, so DPF blockage is a problem that lots of diesel truck drivers experience.
Most trucks will be equipped with DPF filters to re-burn and decompose carbon particles produced by insufficient diesel combustion.
However, the DPF device on the car has the risk of being easily blocked, and needs to be cleaned and regenerated regularly, otherwise, it will block and lead to torque limitation.
Therefore, the emergence of HD3100 Pro successfully solves the risk of DPF blockage for you.
Warm Tips: HD3100 Pro is only compatible for the DPF function of Volvo, International, Mack heavy duty trucks.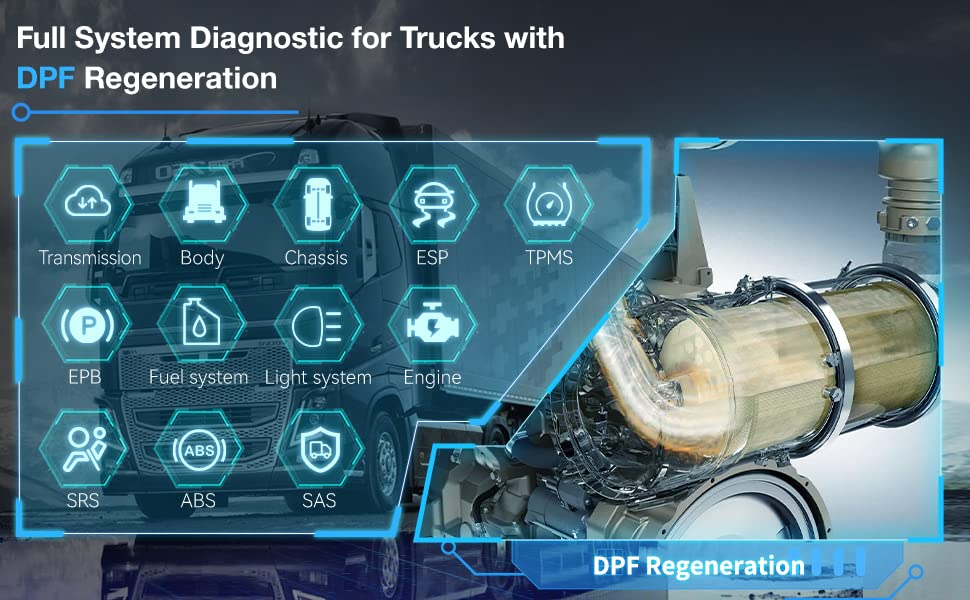 Ultra-wide range of OBD protocols
HD3100pro heavy duty truck scanner integrates commercial vehicle OBD standard diagnostic protocols, including SAE J1939, SAE J1708, SAE J1850 PWM, SAE J1850 VPW, ISO 14230-4, ISO 9141-2, ISO 15765-4 and ISO 27145-4. In addition, models of 12V & 24V voltage that are in compliance with the standard protocols and has coverage for all Class 4, to class 8 heavy-duty trucks as well.

Compatible for private diesel protocols for 3 main trucks: HD Volvo, Mack, International
Compatible for OBD2 protocol for passenger cars, extends the diagnostic range of the device and enables easy engine diagnostics on most passenger cars, minivans and light trucks 1996 and newer.
Compatible for other main HD trucks: Freightliner, Peterbilt, Ford truck, Compatible for GMC truck, Iveco, Kenworth, Mack, Mercedes Truck, Sterling, Western Star, Volvo...
Compatible for off road equipment: BobCat, Case, Caterpillar, John Deere, Komatsu, Volvo, Terex...


Available functions for models supporting standard OBD protocol
ECU Information: Read and display the control system module information detected from ECU
Read Fault Codes: Read the fault code information retrieved from the vehicle system module
Erase Fault Codes: Clear the fault code and freeze frame data retrieved from the vehicle system module
Live Data: Read and show the real-time operating parameters of the current system module, display all real time live data stream with chart.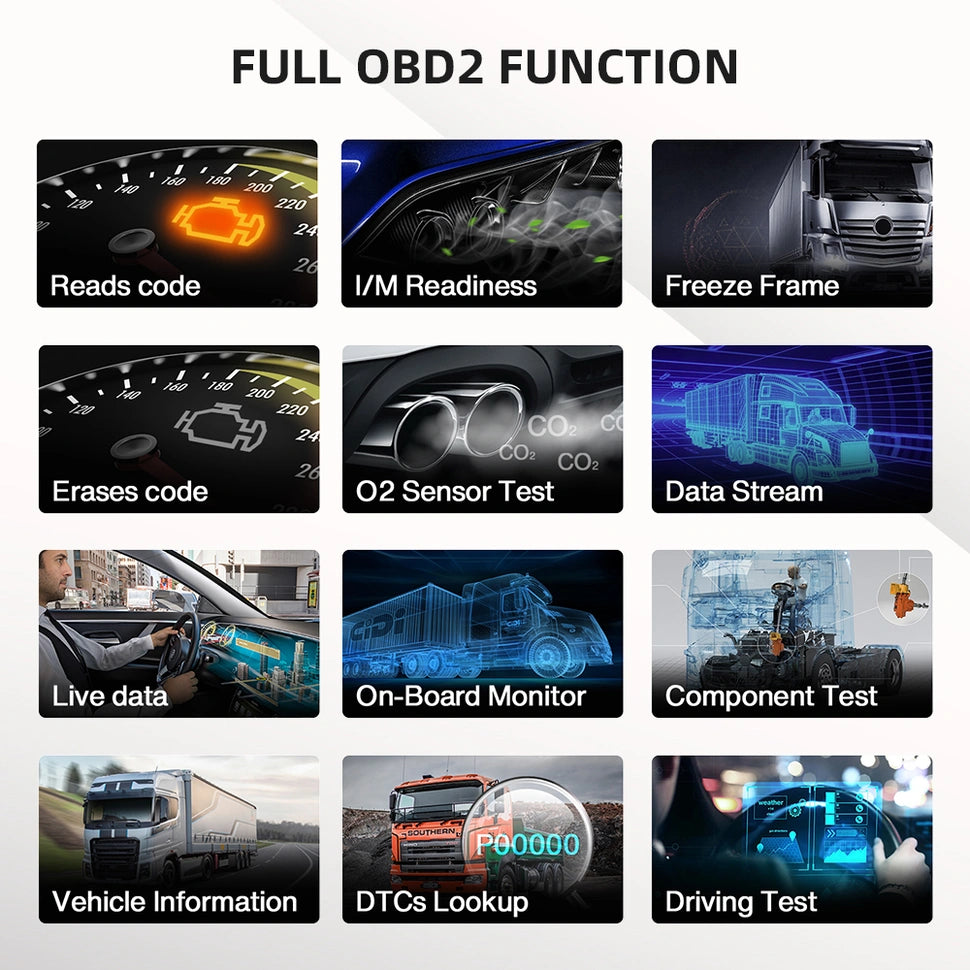 Support One-click operation
One-click screenshot: Screenshot after vehicle diagnosis is used as important evidence to judge whether the car is damaged. View the screenshot in "Data Management" with a one-click screenshot anytime you want.
One-click feedback: With this scan tool. If you have any diagnosis problem, just feedback us through this function, and ANCEL's professional technical team will provide you with an excellent solution.
One-click WIFI update: With this diagnostic tool, updating the software with one-click via wifi isn't a dream, no need to update on the computer you can get the more latest models version, and fix bugs of this scanner.
One-click Activate: allowing you to get started your first truck diagnostic, fill in optional registration information without complex settings.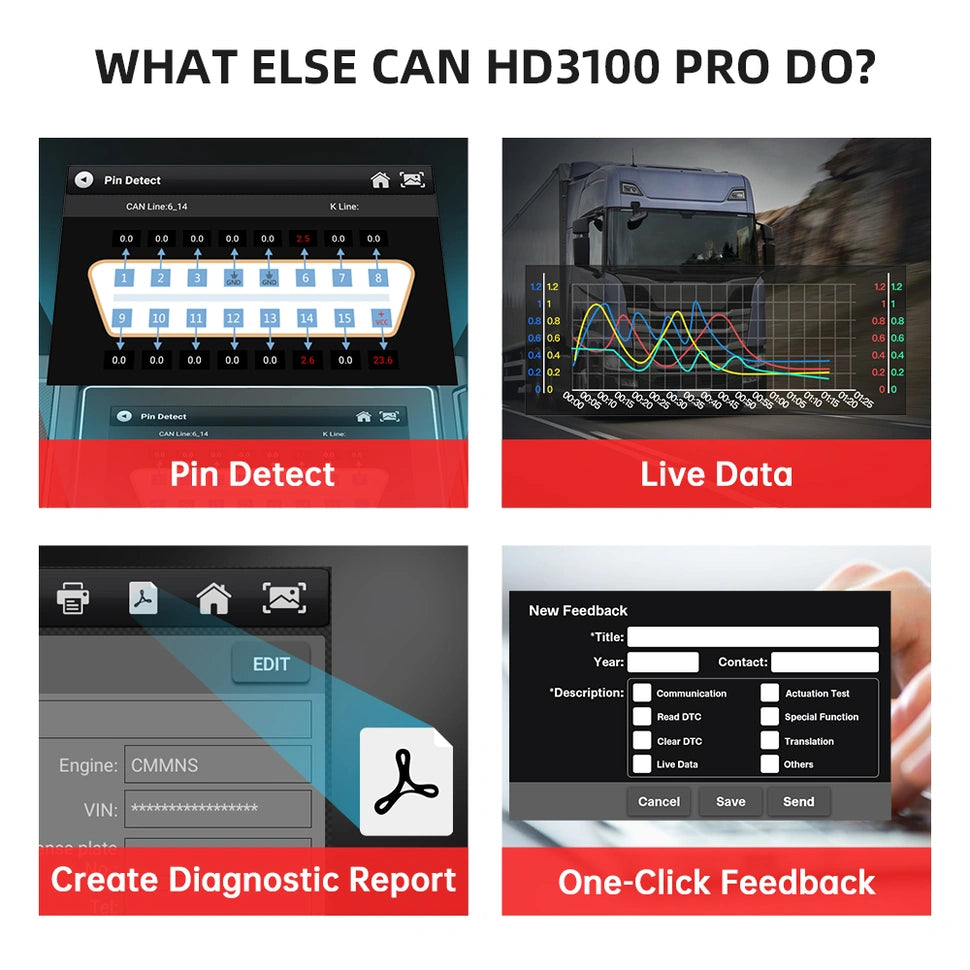 Support Languages and Product Specifications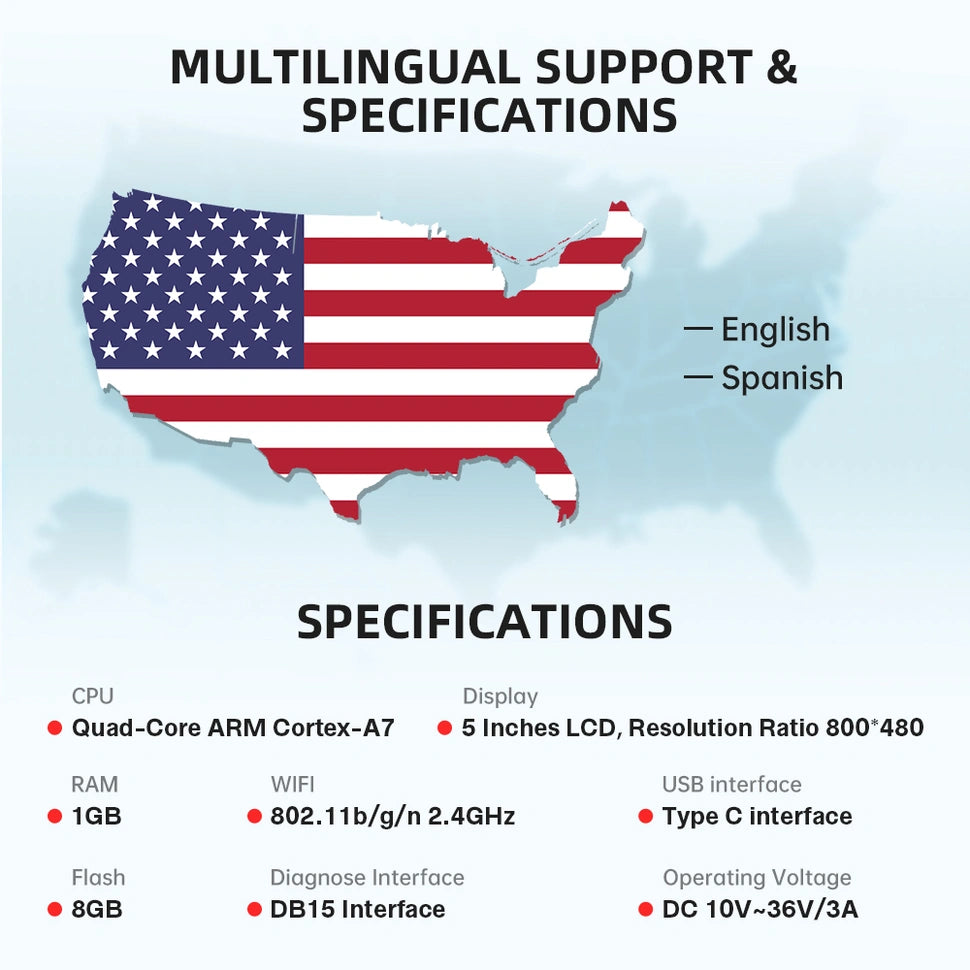 Package List