ANCEL X7HD Heavy Duty Truck Diagnostic Tool
US Free Shipping. Order in the next
[totalHours] hours %M minutes
to get it between and
DESCRIPTION
WHAT TO LOOK FOR WHEN BUYING A USED HEAVY TRUCK?
When shopping for a used heavy truck, there are several factors to consider to ensure you make an informed decision. Have you encountered the following problems?
Shopping for a used heavy duty truck but not sure about the historic condition of the vehicle?
Would you like to have a thorough inspection of your vehicle?
Do you want to know the maintenance and service history of your vehicle?
Do you need to determine the mileage record of your vehicle?
Selecting a used heavy truck that fits your needs, budget and quality expectations is easy, and with the help of
Ancel X7HD
you can do a full vehicle research and evaluation.
Worried about something wrong with your truck?
Face the actual data yourself! The professional truck diagnostic scanner Ancel X7HD can conduct a comprehensive diagnosis of the truck's on-board system. It can access the truck's electronic control modules and retrieve valuable information about the engine, transmission, ABS, airbags and other critical systems. By scanning for Diagnostic Trouble Codes (DTCs), the scanner can help identify any existing or potential issues with your truck's systems, giving you insight into the overall health of your vehicle.
Want to know about the lifespan of a used heavy truck?
How well your truck is maintained and whether it has been serviced regularly is critical to the longevity and reliability of your used heavy truck. Ancel X7HD can access maintenance and service records stored in the truck's electronic systems. This feature can help verify the truck's maintenance history by retrieving information about routine maintenance tasks, such as oil changes, filter replacements, and inspections. You can use this to evaluate the life and safety performance of the truck.
Odometer tampering is unacceptable!
Ancel X7HD can help you verify the accuracy of your truck's reported mileage. By connecting a scanner to the truck's OBD2 port, you can retrieve logged mileage stored in the electronic system. This enables you to compare the reported mileage to the truck's age, condition and maintenance records. Verifying mileage helps ensure transparency of vehicle history and enables you to make informed decisions based on accurate information.
Let all the previous usage data of the truck be displayed in front of you. Assess the potential cost of repair or maintenance and factor this into your decision-making process.
Wrapping Up
Overall, a scanner like the Ancel X7HD can be a valuable tool when purchasing a used heavy truck. It provides diagnostic capabilities, assists in pre-purchase inspections, verifies maintenance history and mileage, and helps identify potential issues. By leveraging the scanner's features, you can make a more informed decision, ensure the truck's reliability, and potentially save myself from costly repairs or unforeseen problems down the line. Ancel x7hd,Your Loyal Assistant.
ANCEL X7 HD is a new generation Android-based total diagnostic tool for heavy-duty trucks and commercial vehicles and machinery. With the 10-inch highly qualified industrial diagnostic tablet, in the software, more trucks, busses, and machinery from home and abroad with comprehensive diagnostic functions. With a new diagnosis experience and cost performance, it can be a better choice for all users.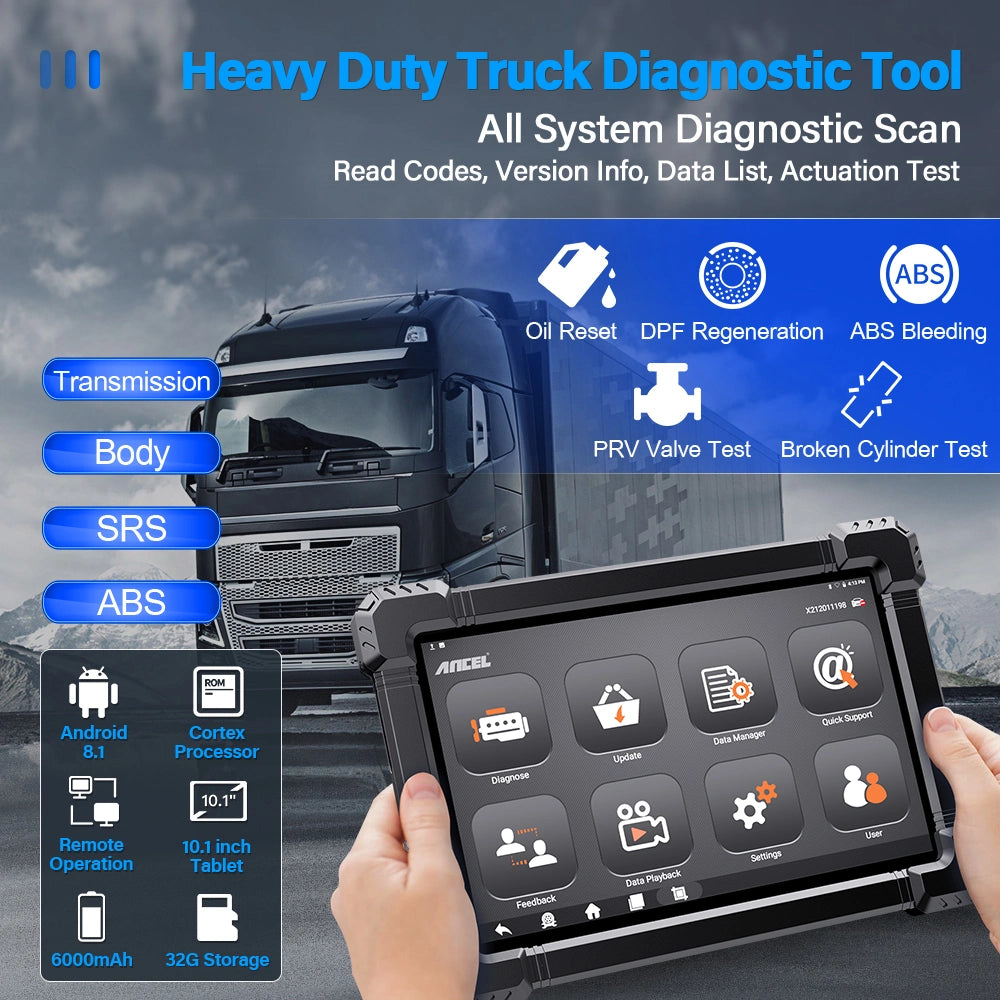 ANCEL X7 HD software advantages
Professional diagnostic service system with all brands, systems, and functions.
Comprehensive vehicle coverage for heavy trucks.

Complete function capability including DTC, DTC freeze Info, Live data, Actuation test and Special function, and professional data replay, data stream analysis for automobile repacking.

Support one-key update/logging/Test report/Feedback/function list via wireless.

Support online & offline DTC query.

Beautiful UI interface, easy operation, good experience.

Perfectly support Android 8.1.
ANCEL X7 HD Truck Diagnostic Tool Function Coverage
Basic Function:
1. Read ECU Info
2. Read Fault Code: Read DTCs, Clear DTCs.
3. Clear learning value
4. Read Live Data: Data Stream Waveform Display
5. Actuations
6. Read freeze frame data
7. Data Manage: Can manage Vehicle App, Testing pictures, etc. Users can make effective management of files and storage.
8. System Auto Detected:Automatically identify the vehicle model and information.
Resetting:
1. Basic Reset
2. Oil change
3. Cylinder shut off test
4. Cylinder compression test
5. Cylinder balancing test
6. EGR Solenoid Test (EGR-exhaust gas recirculation)
7. EGR Pulse Ratio Test
8. DPF Manual Forced (DPF-diesel particulate filter)
9. DPF Normal Regeneration
10. ABS bleeding (ABS-antilock brake system)


Professional ABS Bleeding & DPF regeneration
ABS Bleeding
ANCEL X7-HD activate motor to do exhaust air in ABS Automatically,save your energy and time, make your drive more safe, worth thousands of pounds.
DPF regeneration
DPF Reset and Do DPF Regeneration Automatically, make sure your truck meet emission requirement.
ANCEL X7-HD Automatic diagnosis tool For Coding
1. Control unit adaptations
2. Injector Codes
3. Read/Write VIN
4. Road speed limit optional vehicle speed set.
OBD2 Automatic Programming
1. Level calibration,
2. Idle speed learning,
3. Idle speed Adjustment,
4. Camshaft timing control learning, etc.


Systems Coverage
1. Engine system
2. Body control system
3. SRS system Airbag
4. ABS-anti-lock brake system
5. Instrument System
6. Transmission system
7. Brake control system
8. Unit pump system
9. Common Rail System
10. Electronical control system
11. Natural gas system
12. Tail gas after-treatment system
13. Air-conditioning system
14. ATA-Anti-theft alarm system
15. AHA-Auxiliary heating system air-to-air
16. AUS-Audio system
17. BMS-Brake Management System
18. Bosch DENOX AdBlue System
19. Break control system
20. BWS-Preparation system
21. CCS-Climate control system
22. Comfort/assistance/safety systems
23. Compressed Air Reserve system
24. CSS-Collision safety system
25. CTS-Clock and Time System
26. EBS-Electronically Controlled Brake System
27. EHLA-Electrohydraulic steering system
28. EMS-Engine Management System
29. Fuel system
30. Exhaust Pressure Adjustment systems
31. ECM-Engine Control Module
32. Speed control systems
33. Turbo Control systems


Supported languages
English, French, Spanish, German, Russian, Korean, Japanese, Portuguese, Italian, Polish, Dutch, Swedish, Czech, Chinese.



Other advantages of ANCEL X7 HD
1. Covered truck brands (34 types) and models
2. Supports J1939, J1708 and J1587 protocols.Routine diagnosis for almost all cars, mini vans and light duty vehicle from 1996 to newest utilizing ISO9141, ISO14230, ISO15765, ISO11898, SAE-J1850 VPW, SAE-1850 PWM, UDS, K/L lines, High speed CAN, Middle speed CAN, Low speed CAN and Single wire CAN
3. Supply USB and WIFI connection for the VCI.
4. Very easy to use with touch screen control and intuitive control in the windows.
5. The hardware runs stably with built-in over voltage protection to avoid hardware damage due to voltage instability and good operation in low and high temperature environments.
6. Compared to the repair shop, compared with similar products, cost-effective
Vehicle Coverage
Heavy Truck
For HINO, For HYUNDAI HEAVY Truck, For KIA Heavy Truck, FOR Benz, For DAF, For MAN, For ERF, For Scania, For Fuso, For UD, For Isuzu, For Iveco, For Renault, For Volvo, For Mack, For Detroit, For Freightliner, For Paccar, For Kenworth, For Navistar, For International, For Maxxforce, For Astra, For Bremach
Light Truck:
For Ford, For GM, For Toyota
Construction
For Caterpillar, For Atlas, For Chengdu Kobelco, For Dasin, For Doosan, For Foton Lovol, For Fuzhou Sanyuan, For Fuwa, For Black Cat, For HENGTE, For Yellow River, For Kato, For Case, For Lishide, For Liebherr, For Lugong, For Lonking, For SHANGHAI Pengpu, For Hitachi, For Sany, For Xgma, For Shantui, For Sunward, For Bobcat, For IHI, For SHUNTONG, For Terex, For HYUNDAI, For KOMAISU, For XCMG, For YANMAR, For YITUO, For YUTONG, For YUCHAI, For JONYANG, For ZHEMYU, For ZHONGLIAN, For ZOOMLION, For ZHONGYOU, For TAKEUCHI, For SUMITOMO
ENGINE
For Cummins, For BOSCH, For CATERPILLAR
ABS
For Bosch, For ALLISON, For BENDIX, For WABCO
China Truck
For FAW, For DONG FENG, For SINO TRUCK, For SHACMAN, For FOTON, For JAC, For XCMG, For HONGYAN TRUCK, For C & C Truck, For JMC


Real Time Data Viewing


BT connection, convenient and quick, clear processing


VCI Function introduction


Two-year Free Update
Free upgrade within two years from activation. After expiration, the optional upgrade packages and fees are $199/year, $318/two years, and $398/three years. After the software expires, you can continue to use the old version.
Package List
QUESTIONS & ANSWERS
Have a Question?
Be the first to ask a question about this.
Ask a Question