ANCEL BD500 All System Bluetooth 5.0 OBD2 Scanner Compatible for VW Audi Seat Skoda Car Code Reader
US Free Shipping. Order in the next
[totalHours] hours %M minutes
to get it between and
DESCRIPTION
ANCEL BD500 bluetooth OBD2 scanner is compatible for Volkswagen /Audi /Skoda /SEAT Series. It can not only read and clear diagnostic fault codes of the main systems (Engine, Transmission, SRS, TPMS, ABS, SAS, ESP System, etc.), but also supports body, chassis, powertrain and all control modules. This helping VAG vehicles users save money and time in maintenance or repair.
Why should you choose the ANCEL BD500?
1. Connect to IOS/Android mobile phone by wireless bluetooth, download "ANCEL" APP, and directly perform car diagnosis function.
2. Supports full 10 OBD test modes, not just  compatible for VAG models. For you and your family car to do a simple and comprehensive inspection, easily through a variety of car inspection.
3. Cover all basic needs to check full car systems (Engine, ABS, SRS, Transmission and more).
4. Supports most-commonly used maintenance service such as Electronic Parking Brake Reset, Service Reset and Throttle Learning etc.
5.This scanner uses AutoVIN technology, to provide quick and accurate car identification in one touch, without the manual input of vehicle make, model, and year data.
6. Supports lifetime free updates, which means it will cover more models and provide more functions in the future. And you don't need to change to a new car scanning tool in future.
Professional Diagnostic Code Scan Tool for Full Systems
BD500 bluetooth scanner can perform thorough and comprehensive diagnosis of many electronic control modules compatible for Audi/Volkswagen/Skoda/Seat and other models, such as Engine, Transmission, Battery Energy, Accumulator Management Electronics, Steering, Braking System, SRS Airbag, Camera, Audio Radio, Battery Charging System, Chassis integrated control and safety system,Intelligent body electronic system, and more.


Support Special Functions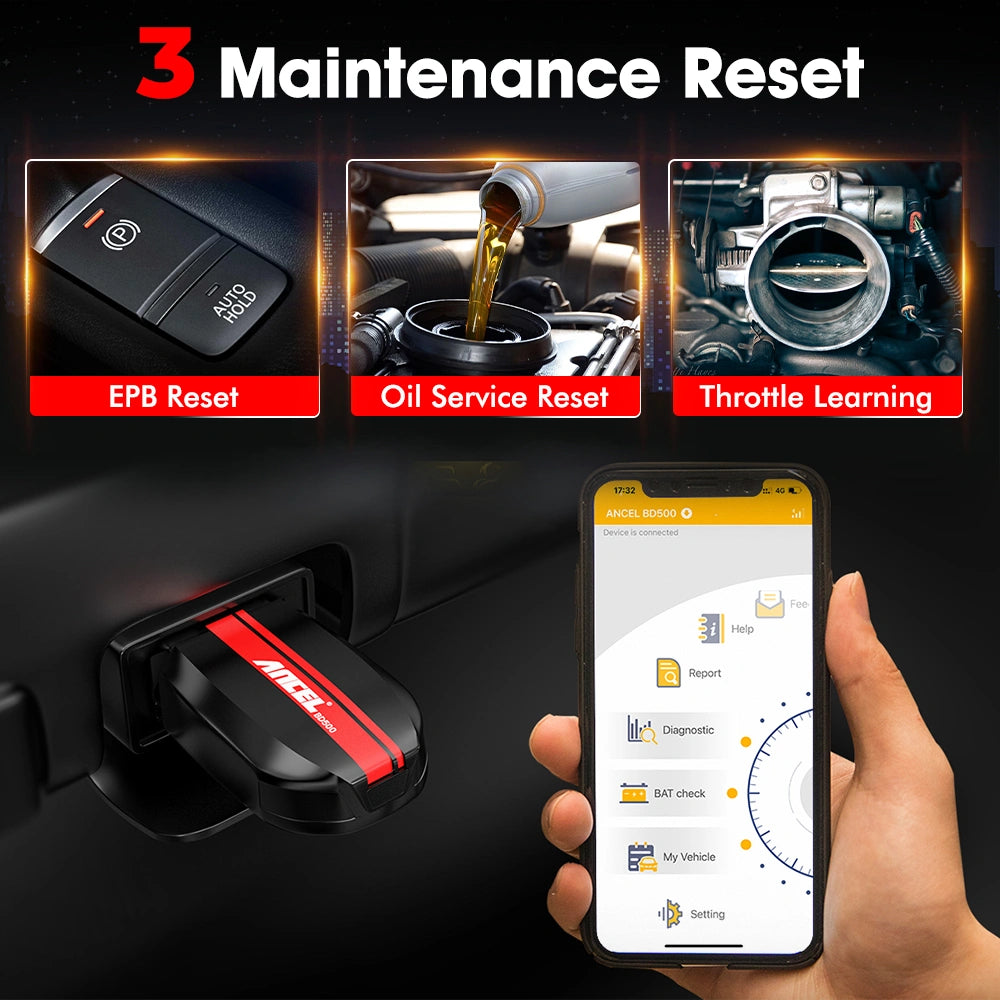 BD500 Support Vehicles List
VW menu support models
Compatible for Volkswagen Sedan Series (2000-2019)
Compatible for  Audi full range (2000-2019)
Compatible for Skoda full range (2000-2019)
Compatible for  All Seat Departments (2000-2019)
Compatible for  Volkswagen Commercial Vehicles, Truck Series:
Compatible for Caddy 2000-2018
Compatible for  Caddy Pickup 2002-2002
Compatible for Crafter 2006-2017
Compatible for  Crafter NF 2017-2018
Compatible for  Transporter 2003-2018
Compatible for  Amarok 2010-2018
Compatible for  Multivan 2003-2009
Compatible for TGE 2017-2018
Compatible for BENTLEY:
Compatible for  Continental 2004-2019
Compatible for New Continental GT 2012-2018
Compatible for  Continental Supersports 2012-2018
Compatible for  Continental Supersports Convertible 2012-2018
Compatible for  Continental Fying Spur 2012-2019
Compatible for  Continental Flying Spur Speed 2012-2019
Compatible for  Bentayga 2016-2019
Compatible for Mulsanne 2011-2019
Compatible for Brooklands 2009-2010
Compatible for Azure2000-2010
Compatible for  LAMBORGHINI:
Compatible for  URUS 2018-2019
Compatible for Gallardo 2008-2014
Compatible for Gallardo NF/Huracon 2014-2018
Compatible for Aventador 2012-2018
Compatible for  BUGATTI:
Compatible for  Veyron 2001-2016
Compatible for  Chiron 2017-2022
OBDII menu support models
Compatible for  Ford: Works with most 2000 and newer, Compatible for  Ford, Compatible for  Mercury, Compatible for  Lincoln sold in North America
Compatible for BMW: Works with most 2000 and newer, Compatible for  BMW and Compatible for  Mini soldin North America
Compatible for Volkswagen: Works withmost 2006 and newer, Compatible for  WW, Compatible for  Audi, Compatible for  Bentlevsold in North Armerica
Compatible for Mercedes: Works with most 2000 and newer, Compatible for  Mercedes and smart
Compatible for Nissan: Works with most 2005 and newer, Compatible for  Nissan, Compatible for  Infiniti, Compatible for  Renault
Compatible for Mazda: Works with most 2005 and newer, Compatible for  Mazdas
Compatible for Toyota: Works with most 2005 and newer,Compatible for  Toyota, Compatible for  Lexus, Compatible for  Scion
BD500 is easy to use
1. Download "ANCEK" app
2. Plug in the device
3. Start the app
4. Start the vehicle
5. Enable bluetooth
6. Automatic device connection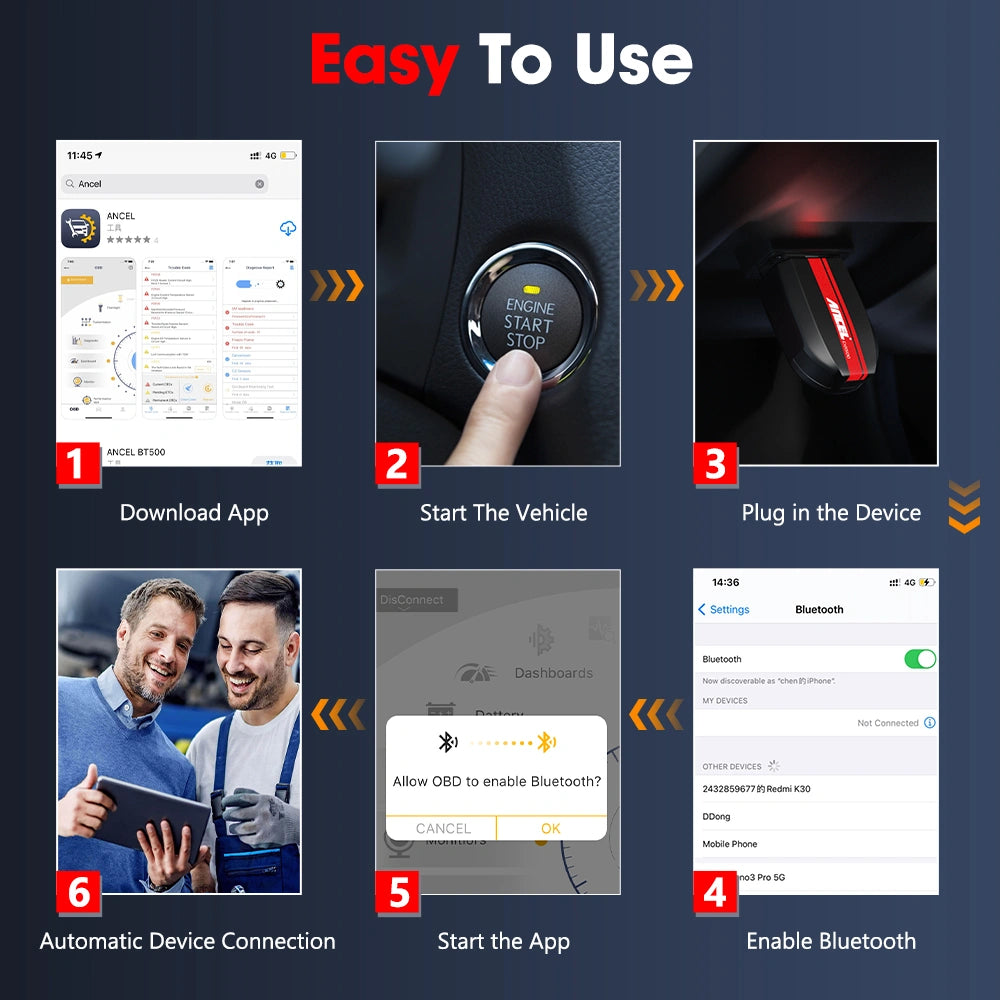 BD500 supports Android and IOS systems, supports mobile phones and tablets



APP name: ANCEL
Precautions for use:

The Android phone must have Bluetooth and location information turned on, 

Allow location permissions

The iPhone must have Bluetooth turned on, and Bluetooth must be turned on in the privacy settings

Pairing is classic Bluetooth, which has been phased out, and is now BLE, which does not require pairing.

BD200/BD300/BD500 bi-color light (red and green), red light indicates normal power-on, green light indicates normal Bluetooth connection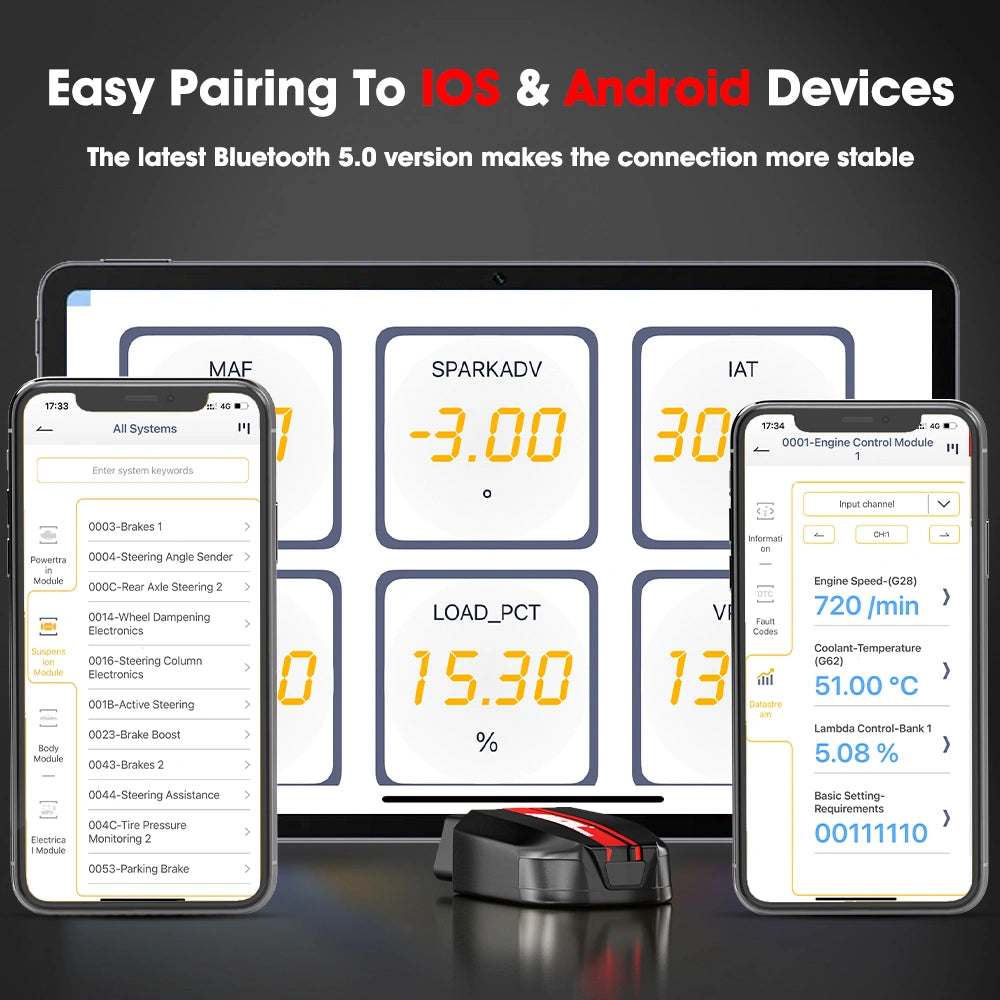 Other Features of BD500



Feedback Function: Please feel free to feedback on your problems to us with this function, ANCEL's professional technical team will provide you with excellent solutions.
Diagnosis Report: Completed diagnosis reports can be copied, saved, or shared with designated contacts in one click.
Editable Dashboard: Enable you to edit the size and position of the dashboard, PID, property, and dashboard style.
Flashlight Switch: Convenient for you to find the OBD interface in the dark.
Multiple Languages Support: Chinese, English, German, Spanish, French and Italian.
Lifetime Free Update: Free lifetime update via APP.
DTC lookup: With the built-in DTC lookup library, you can find relevant code definitions to help you determine if your car needs servicing, saving you time and money.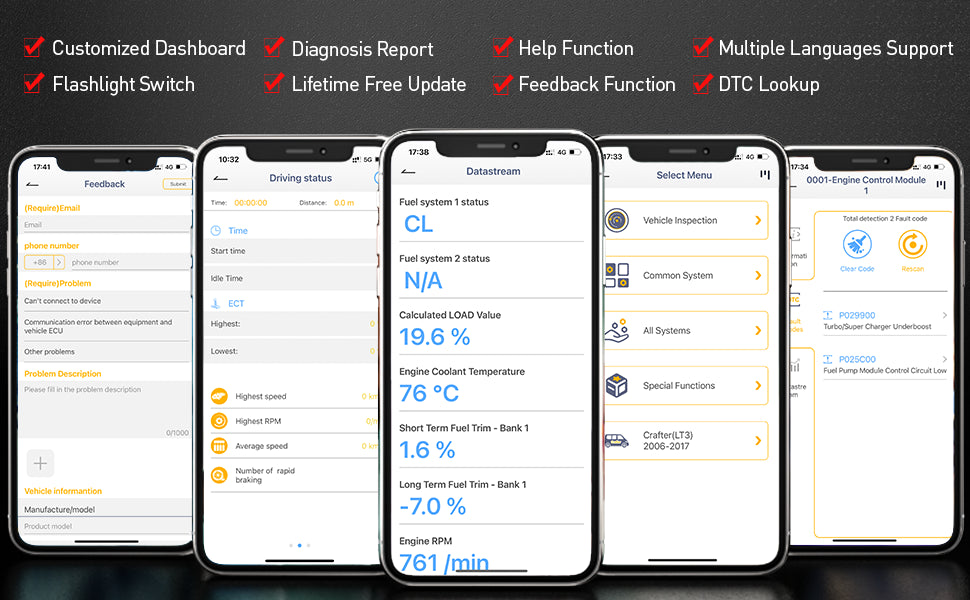 I have a 2015 VW Passat TDI (diesel). Is this scanner (Ancel BD500) can be used to prime the fuel system after replacing the diesel filter?

Sorry, ANCEL BD500 can't work on a 2015 VW Passat TDI (diesel). I will recommend you the ANCEL VD700.