ANCEL VOD700 All System OBD2 Scanner for Volvo Car ABS Bleeding Injector Oil ETC SRL BMS EPB TPMS DPF Reset Tool
US Free Shipping. Order in the next
[totalHours] hours %M minutes
to get it between and
DESCRIPTION
ANCEL VOD700 is a full system diagnostic tool compatible for VOLVO vehicles. As an enhanced OBD2 scanner, the ANCEL VOD700 will give you the necessary features dedicated to making auto repairs easy, efficient, accurate and affordable for technicians and DIY enthusiasts a great choice for car enthusiasts and mechanics.
Why should you choose the ANCEL VOD700
Supports full 6 OBD test modes, not just compatible for VOLVO models. For you and your family car to do a simple and comprehensive inspection, easily through a variety of car inspection.
Cover all basic needs to check full car systems (Engine, ABS, SRS, Transmission and more).
Supports most-commonly used maintenance service such as EPB Reset, Oil Reset, BMS reset, ETC Reset and ABS Bleeding etc.
This scanner uses AutoVIN technology, to provide quick and accurate car identification in one touch, without the manual input of vehicle make, model, and year data.
Supports lifetime free updates, which means it will cover more models and provide more functions in the future. And you don't need to change to a new car scanning tool in future.
Features patented One-Click Smog Check, allow you to do their jobs faster.
Battery check function allows you getting the voltage of battery with OBD port by the scan tool when the engine starts.
All-system Diagnosis for VOLVO vehicles
Engine System
Transmission System
Airbag System
ABS System
Battery System
DPF System
Oil System
Immobilizer System
and more...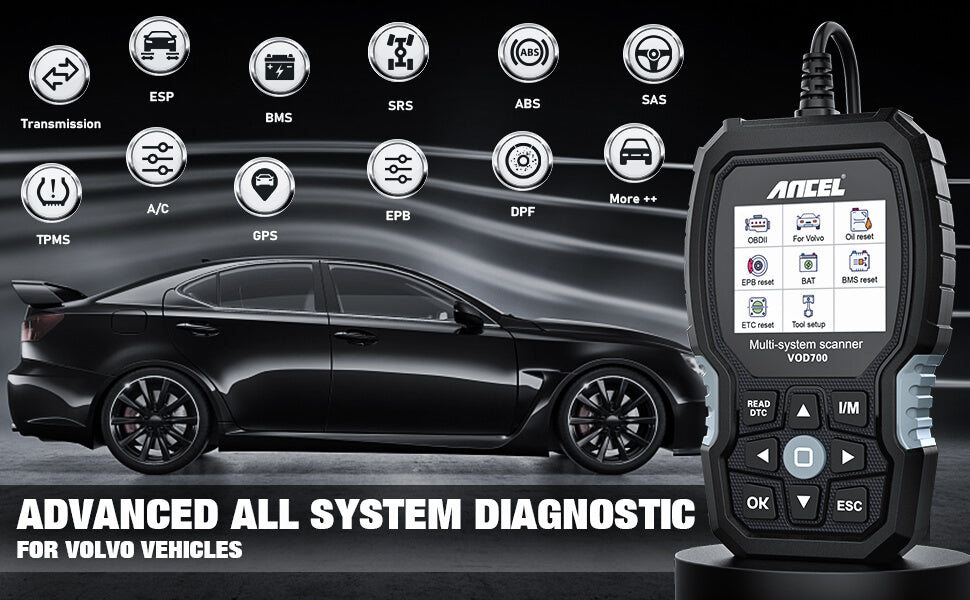 Advanced Functions for VOLVO Vehicles Diagnosis
EPB Reset: Reset the brake pad after repairs in electronic parking brake system are done. Deactivate and activate the brake control system, assist with brake fluid control, open and close brake pads, etc.
Oil Reset: Allow you to reset your oil. Oil change frequency is dependent upon the make and model of your vehicle. The frequency also depends on you and your driving habits.But you should change your oil at least twice a year, regardless of how much driving you do.
BMS Reset: Re-match the control module and motoring sensor for battery detecting more accurately, clear original low battery information and prevent the related control module from detecting false information.
Electronic Throttle Control ( ETC ) Reset: Choice the ETC Reset from the main menu to learn valvetronic limit positions on your vehicles, then just following the steps from VOD700. Resetting the Throttle Position after cleaning or replacement can help your nice car work on it is best condition.
ABS Bleeding: When the ABS contains air, the ABS bleeding function must be performed to bleed the brake system to restore ABS brake sensitivity.
TPMS Reset: If the TPMS (Tire Pressure Monitoring System) light is illuminated, it means your tires could be underinflated, which can lead to undue tire wear and possible tire failure. VOD700 can read and clear TPMS error codes and turn off the TPMS warning light after you replace the tire.
DPF Regeneration: Diesel Particulate Filter Regeneration means clear PM (Particulate Matter) from the DPF filter through continuous combustion oxidation mode to stabilize the filter performance. VOD700 can also support other DPF special functions, such as DPF Parameter Reset, DPF Manual Regeneration, DPF Reset, DPF Regeneration Suspension, Diesel Particulate Filter Static Regeneration.
Injector Coding: Code new injector numbers to replace the previous one when fitting the new injectors or after the replacement is completed.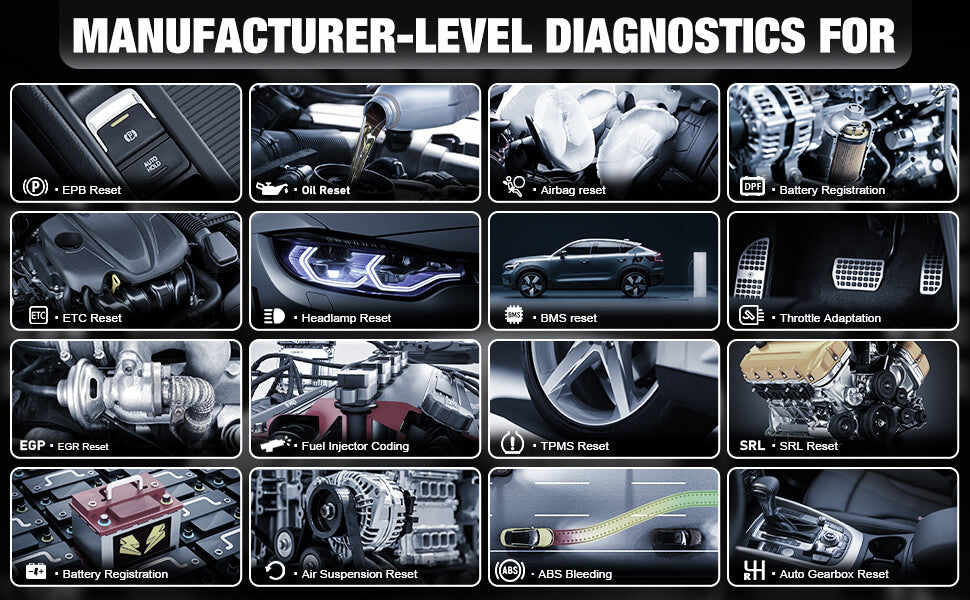 Multiple OBDII Functions for All Cars
VOD700 scanner support 6 OBD2 modes, such as read code, clear code, view real-time data/vehicle information, retrieve I/M readiness status and EVAP system test, etc. Helping technicians quickly identify the faulty part and accurately diagnose the emissions-related problems.
It supports the following protocols and vehicles:
Supports the protocols: KWP, CAN, UDS.Supports all OBDII/EOBD protocols: VPW, PWM, ISO, KWP 2000 and CAN.
Compatible for 850 (1992-1997), 960 (1991-1997),
Compatible for C30 (2007-2013), C70 Conv (1998-2005), C70 Coupe(1998-2002), C70 (2006-2013),
Compatible for S40 (1996-2012), S60 (2001--2019), S60L (2019-),
Compatible for S70 (1997-200), S80 (1999-2016), S90 (1997-1998),
Compatible for S90 (2017-2019), S90L (2018-2019),
Compatible for V40 (1996-2004), V40 (2013-2018), V50 (2004-2012),
Compatible for V60 (2011-2019), V60 (2019-), V70 XC (1997-2000),
Compatible for V70 XC/XC70 (1997-2007), V70 XC/XC70 (2001-2007),
Compatible for V70 (1997-2016), V90 Cross Country (2017-2019), V90 (1997-1998), V90 (2017-2019),
Compatible for XC40 (2018-2019), XC60 (2009-2019), XC70 (2008-2016), XC90 (2003-2019)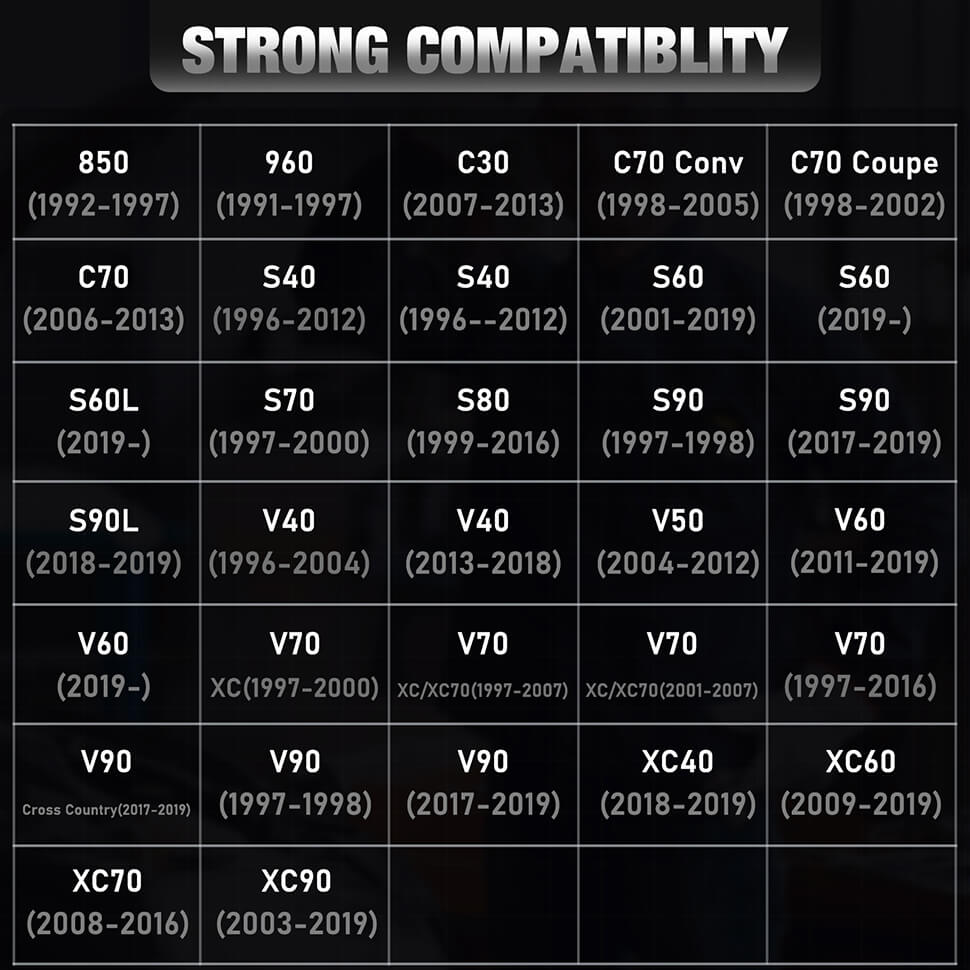 Other Features of ANCEL VOD700
One-Click Readiness Key: Features patented One-Click Smog Check, allow you to do their jobs faster.
Feedback Function: Please feel free to feedback on your problems to us with this function, ANCEL's professional technical team will provide you with excellent solutions.
DTC Lookup: With the built-in DTC lookup library, you can find relevant code definitions to help you determine if your car needs servicing, saving you time and money.
Battery Check Function: Allows you getting the voltage of battery with OBD port by the scan tool when the engine starts.
Auto VIN: Provide quick and accurate car identification in one touch, without the manual input of vehicle make, model, and year data.
Multiple Languages: Supports English, German, Spanish, French, Italian, Russian, Portuguese, Finnish, Danish, Swedish, Norwegian.
2 Skin Style: Two skin styles for choosing, you can choose white skin to enhance visibility during the day and choose black skin to protect your eyes during the night.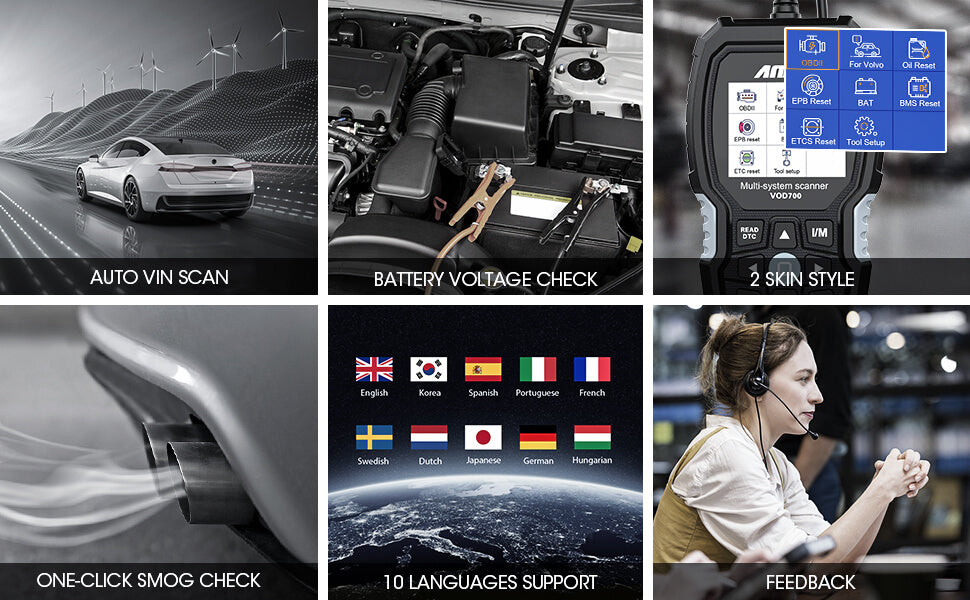 QUESTIONS & ANSWERS
Have a Question?
Be the first to ask a question about this.
Ask a Question