ANCEL HD3500 Pickup Heavy Duty Truck OBD2 Scanner All System DiagnosticTools DPF Regen for Ford Ram Chevy GMC Toyota Honda Nissan
HD3500 is a diagnostic tool for pick-up trucks based on the Android tablet. for Ford, Dodge, Chevrolet, GMC, Toyota, Nissan, and for Honda, along with Isuzu are fully covered. This product...
Description
HD3500 is a diagnostic tool for pick-up trucks based on the Android tablet. for Ford, Dodge, Chevrolet, GMC, Toyota, Nissan, and for Honda, along with Isuzu are fully covered.

This product integrates commercial vehicle OBD standard diagnostic protocols, including SAE J1939, SAE J1708, SAE J1850 PWM, SAE J1850 VPW, ISO 14230-4, ISO 9141-2, ISO 15765-4, and ISO 27145-4. Commercial vehicles are classified according to the vehicle type information, and the operation interface is very clear, which makes it convenient for users to diagnose commercial vehicles.
OEM-Level All System Diagnosis
Ancel HD3500 is a full-system diesel truck code reader, which allows you to read codes, clear codes, retrieve vehicle info and graph live data stream for all available control modules, such as Engine, Transmission, Instrument, Braking, Suspension, ABS, Immobilizer, SRS, BCM and etc. It's very easy to operate, and can be used out of the box. Plug and Play. As it's known, an individual menu means deeper software and more functions. If you compare the main menu of Ancel HD3500 with other Pickup code readers, you will find Ancel HD3500 includes an individual menu for Ford, Dodge, for Chevrolet, for GMC, for Toyota, for Nissan and for Honda, for Isuzu, which makes Ancel HD3500 different from others. Get Ancel HD3500, you will get an OEM-Level diagnostic scanner for these 8 Pickup trucks.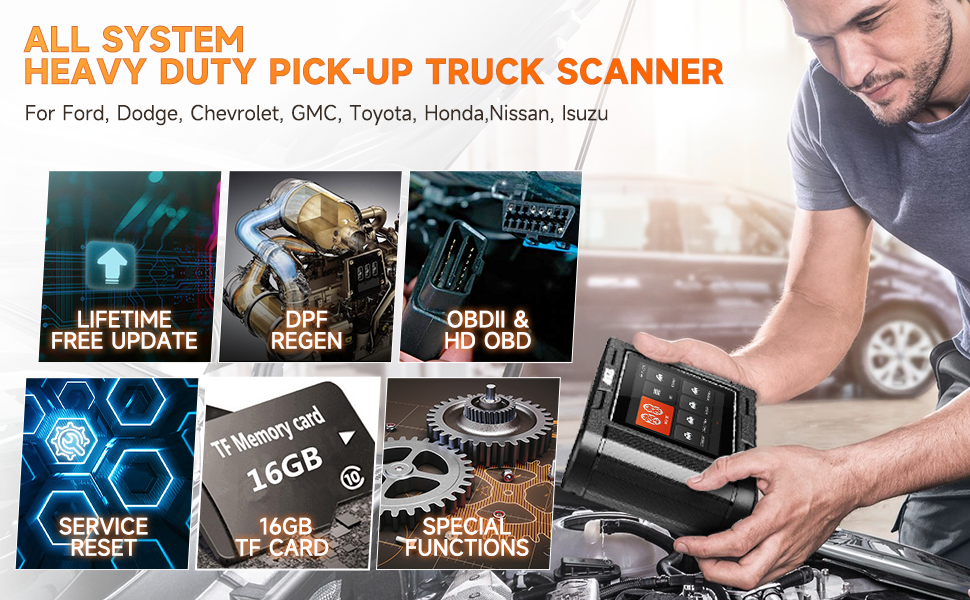 Commonly used special functions
1.DPF Regeneration: Accurate and effective soluting common DPF congestion of diesel trucks with Ancel HD3500. Compatible with diesel trucks which use EGR and SCR, two rear exhaust emission treatment technologies. Locating the key systems and torque-limiting cause due to unregularly DPF cleaning.
2. Actuation Test:By executing this function, you can access the specific subsystems of the vehicle and perform component tests. When the action test is performed, the diagnostic instrument inputs instructions to the ECU to drive the actuators, and judges whether the actuators of the vehicle's electronic control system and their circuits are normal. Different control systems of different models have different executable test options, please refer to the screen display.
3. Special Function:The special function can perform adaptive operation of each component, which is mainly used to re-calibrate or configure the components after repairing or replacing the components, so that the components of the electronic control system can adapt to each other, otherwise the system will not operate normally.
2 in 1 Car&Truck Scanner
Besides the diagnostic function for diesel heavy duty truck (24V), this Ancel HD3500 truck diagnostic scanner also supports almost all cars with OBDII protocols(12V), which performs the almost same functions as common OBDII code reader: read codes, clear codes, read freeze frame, live data stream, I/M readiness,Live Data Stream,O2 Monitor Test, On-Board Monitor Test, Component Test, Vehicle Information and do Driving Test.
Excellent fantastic features you will need
One-click screenshot: Screenshot after vehicle diagnosis is used as important evidence to judge whether the car is damaged. View the screenshot in "Data Management" with a one-click screenshot anytime you want.
One-click feedback: With this scan tool. If you have any diagnosis problem, just feedback us through this function, and ANCEL's professional technical team will provide you with an excellent solution.
One-click WIFI update: With this diagnostic tool, updating the software with one-click via wifi isn't a dream, no need to update on the computer you can get the more latest models version, and fix bugs of this scanner.
One-click Activate: allowing you to get started your first truck diagnostic, fill in optional registration information without complex settings.
Pin Detect: Pin detect mainly automatically measure the voltage of the OBD diagnostic interface, and judge the pin positions of the K line and the CAN line.
If the ECU has no response, this function comes in handy.
Print Report:Using the optional printer, print the important information you need, marking the printed textured paper report, the data can be found and summarized more concisely.
Email Report:After creating and reading your report, G-mail it to a trusted partner who can analyze together simultaneously, know your car through communication.
Support List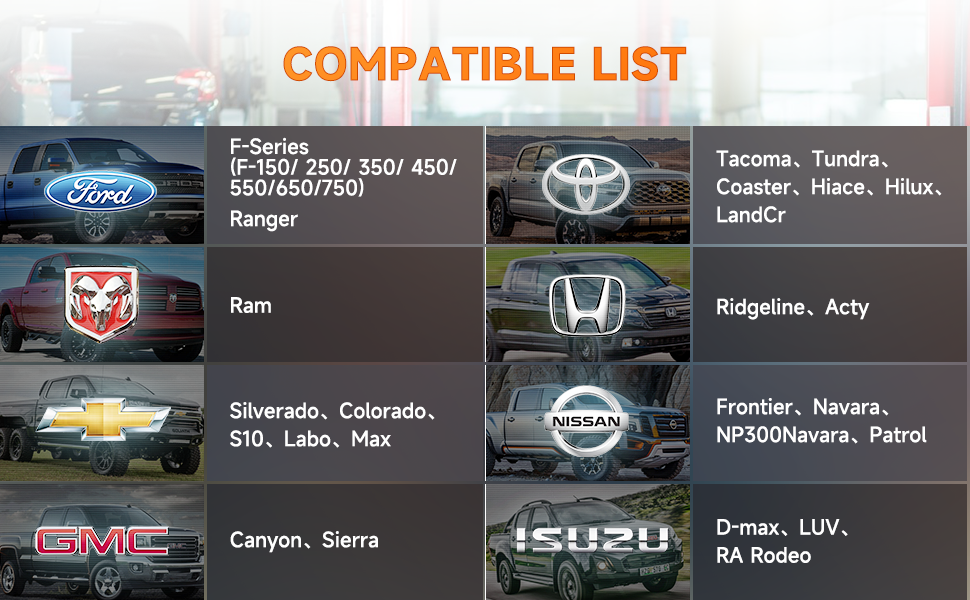 HD3500 Package List
1pc x ANCEL HD3500
1pc x Packing box
1pc x User Manual
1pc x 6pin & 9pin Connector For Trucks
1pc x 16pin OBD2 Connector For Cars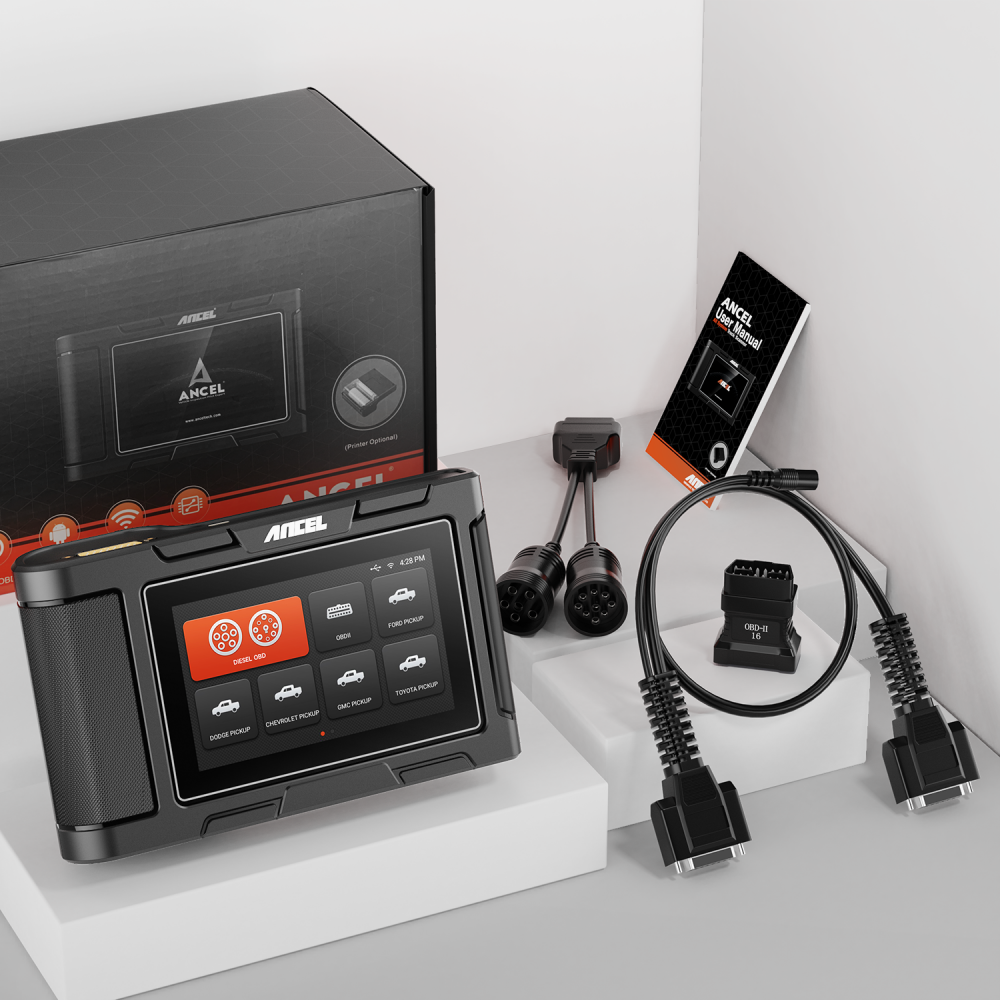 ANCEL HD3500 Pickup Heavy Duty Truck OBD2 Scanner All System DiagnosticTools DPF Regen for Ford Ram Chevy GMC Toyota Honda Nissan