ANCEL AD610 Plus OBDII Scanner ABS SRS Airbag Bidirectional Diagnostic Reset Tool SAS ABS Bleeding OBD2 Engine Code Reader
US Free Shipping. Order in the next
[totalHours] hours %M minutes
to get it between and
DESCRIPTION
ANCEL AD610 Plus is a professional OBD2 scan tool, which can not only read the engine, airbag system and ABS system, but also can turn off the CEL, ABS / SRS / SAS error light. After reading the fault code with the tool to locate the problem accurately and quickly, you can do ABS bleeding, SAS reset and SRS reset by yourself, so you can fix the problem before sending your car to the workshop and save a lot of time and money.
Turn off the Engine/ABS/Airbag/SAS light
Anti-lock Brake System (ABS) reset/automatic bleeding
If the ABS check engine light comes on in your vehicle and needs to be reset, AD610plus can determine the cause of the anti-lock indicator light coming on, read the fault codes, clear them and reset them. If it tells you which parts on the brakes need to be replaced, you can reset the brake indicator after the replacement or repair. Note: The automatic bleeding procedure is used on vehicles with a brake pump.
- ABS Manual Control Testing: allows manual control of actuators to test ABS motors, solenoids, solenoid enable relays, EMB and more.
- ABS Motor Test: allows manual control of ABS pump motor.
- ABS Version Test: displays brake system name and ABS controller version number, software ID and sequence value.
- Actuator Tests: allows manual control of actuators to test AYC valves, intake valves, exhaust valves, pump motors and TRACS valves.
-Auto Bleed Test, Automated Bleed or Service Bleed: removes air from internal brake fluid chambers after brake maintenance.
Supplemental Restraint System (SRS)
The airbag light can come on for many reasons. For example, if the airbag is deactivated, the airbag system has not been reset, the seat belt buckle is not working, the clock spring is defective, a previous accident has occurred, the SRS computer is faulty, and the passenger seat sensor is defective, etc.
It is able to read and clear fault codes in the SRS (airbag) and turn off the warning light to make sure the system is working correctly and safely. This diagnostic tool also displays a live graphical data stream of the supplemental restraint system (airbag), which allows you to analyze and verify that the airbag system is working properly.
Calibration of the steering angle sensor (SAS)
When the ESC (electronic stability control) light comes on, it can diagnose and allow you to reset the SAS after an alignment has been performed or parts have been replaced in the steering system. The steering angle sensor fault memory is automatically cleared when the SAS calibration is complete to ensure that the ESC module is functioning properly.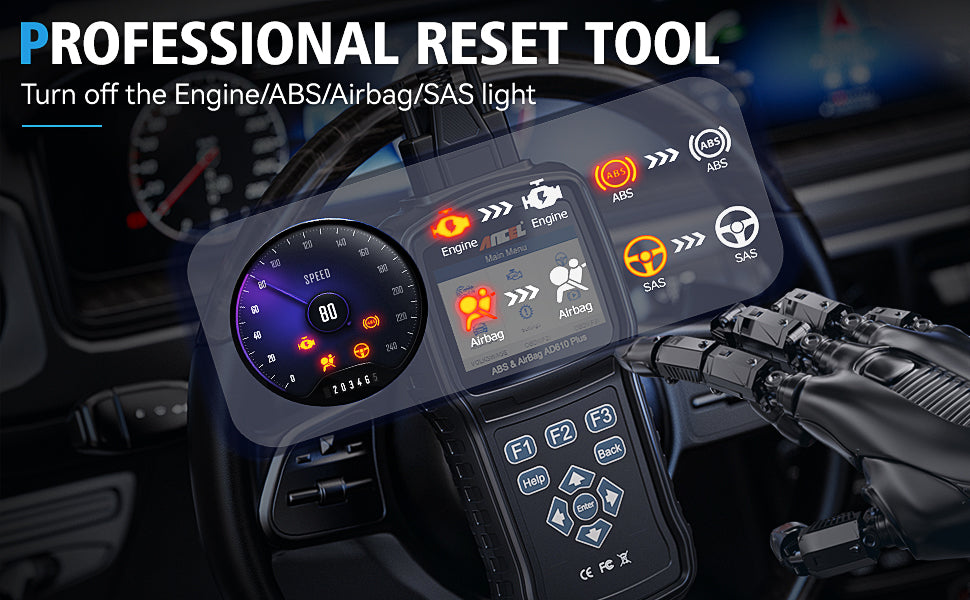 Full OBD-Level Diagnostics (simply turn off the check engine light)
The check engine light can come on for many reasons. For example, a faulty lambda sensor, a loose fuel cap, a faulty catalytic converter, ignition coil problems, faulty spark plug wires, a vacuum leak, etc. The AD610plus with full OBD2 modes can quickly determine the cause of engine system faults, read current, permanent and pending codes, clear the codes and turn off the warning light.
Read codes and clear codes
EVAP System Test
Freeze Frame
I/M Readiness Test
On-Board Monitor Test
O2 Sensor Test
Vehicle Identification Number
Live Data Stream
DTC Search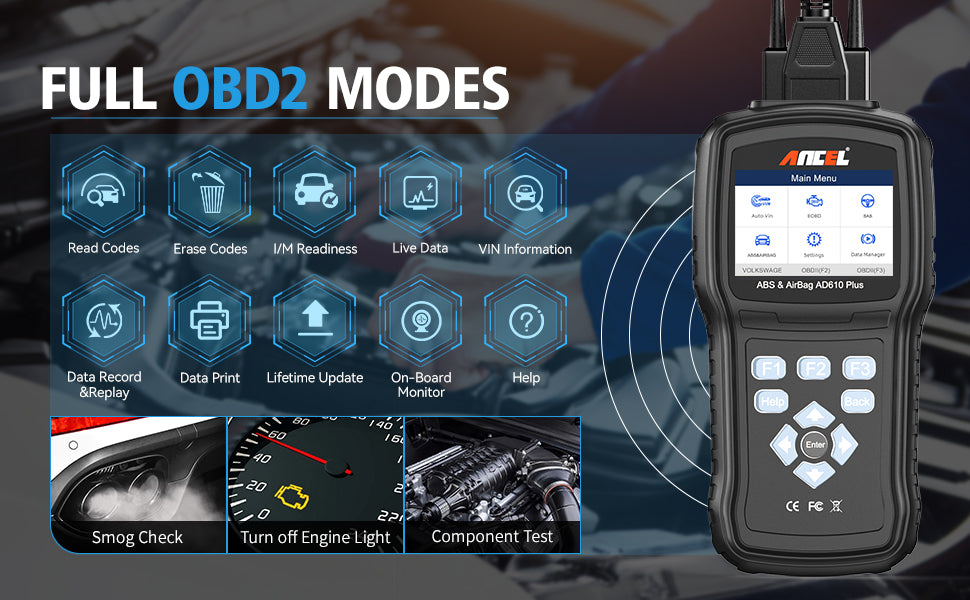 Support Car List
AutoVin
AutoVIN allows you to identify a vehicle by automatically reading the vehicle identification number (VIN) or by manually inputting a 17-digit VIN code which typically includes the following options:
Automatic VIN Acquisition
Manual Input VIN

Live Data in Graph
This professional scan tool displays and records real-time PID data from a selected vehicle electronic control module which typically include:
Complete List
Custom List
Support Lifetime free update
1. Download AD610 Plus Latest Update software on ANCEL official website.
2. Install the update software, then register ANCEL account on clients software.
3. Login account and register product. (Enter serial number and password)
4. Update: click "My updates", then select the correct S/N of your product.
5. Click the "Update" button, then wait for the software to download and update.
Support languages
Dutch, Portuguese, Korean, French, German, Spanish, Russian, Japanese, Swedish, Italian, Hungarian, Thai 
Package List
1* Ancel AD610 Plus
1* OBDII Diagnostic Cable
1* Usb Cable
1* User Manual
What is the difference between AD610 Plus and AD610 Elite?

The ANCEL AD610 PLUS is newer than AD610 Elite. and it has more functions.

Would the Ancel AD610 Plus works with my 2016 Hyundai Elantra GT?

Could you tell me what functions do you need

1. What's the latest software update & where can I download it (website URL)? 2. Can it do ABS brake bleeding on 1999 Ford Ranger XLT 2WD 2.5L 4 cylinder automatic transmission?

1. We have confirmed with the technician that AD610 Plus supports do ABS brake bleeding on 1999 Ford Ranger XLT 2WD 2.5L 4 cylinder automatic transmission.
2. Please download the software from https://www.anceltech.com/download.html

Will the ANCEL AD610 Plus work on a 2018 GMC Sierra SLT 1500 truck?

Yes, AD610 Plus supports work on a 2018 GMC Sierra SLT 1500 truck.

Will this read the steering angle sensor on my 2009 VW New Beetle?

Yes, ANCEL AD610 PLUS can read the steering angle sensor on your 2009 VW New Beetle.
Ancel AD610 Plus
The scanner worked fine.
I was able to see ABS codes and reset them. I ran the ABS pump and valves.
I checked the OBD2 system and looked at live data too.
I was able to use the AutoVIN feature also.
Very good budget friendly tool.
The instruction manual's download address is not working.
I just went to ancel.com site directly.
Registered and downloaded everything I needed on to the mini SD card and inserted it in the tool.
Also glad to know about free update support.
Well worth the money.
Thank you!