ANCEL BD200 Bluetooth OBD2 Scanner Car Diagnostic Tool Check Engine Code Reader
US Free Shipping. Order in the next
[totalHours] hours %M minutes
to get it between and
DESCRIPTION
ANCEL BD200 is a professional diagnostic tool for reading and clearing trouble codes and turning off the CEL when an engine check engine light comes on. It can not only accurately determine codes and possible causes, but also perform DTC search, O2 sensor test, I/M readiness, on-board monitor test, read data stream, display freeze frame data, EVAP system test, retrieve vehicle information (VIN) and generate diagnostic reports, saving vehicle owners a lot of time and money in maintenance.
Why Choose ANCEL BD200 Bluetooth OBD2 Scanner?
Exclusive Free APP: The ANCEL OBD2 APP has an exclusive app developed in-house that unlocks all advanced features, updates the latest vehicle data every year, and promises a lifetime of free use.
Full OBD2 Functions: Not only accurately determine codes and possible causes, but also perform DTC search, O2 sensor test, I/M readiness, on-board monitor test, read data stream, display freeze frame data, EVAP system test, retrieve vehicle information number (VIN) and generate diagnostic reports.
Additional Functions: Added performance tests (vehicle acceleration, braking, distance, PID chart with RPM, VSS, ECT, MAF, etc.) and trip analysis that can record trip status (coolant temperature, speed change, RPM, distance, etc.). It also has other functions, such as voice alerts for vehicle speed, water temperature and driving time, battery test which help car owners improve their driving safety.
Stable Connection: It is not only compatible with Android and IOS, but also uses the latest Bluetooth 5.0 solution, which allows the product to instantly connect to the vehicle's OBD interface via Bluetooth, making it easier to read data from ECU and greatly improving the user experience.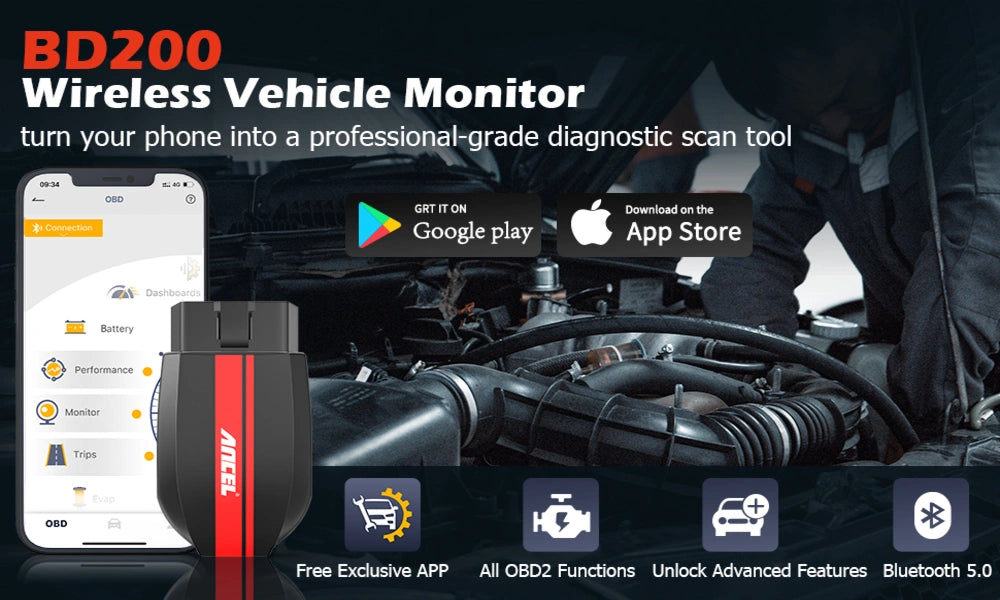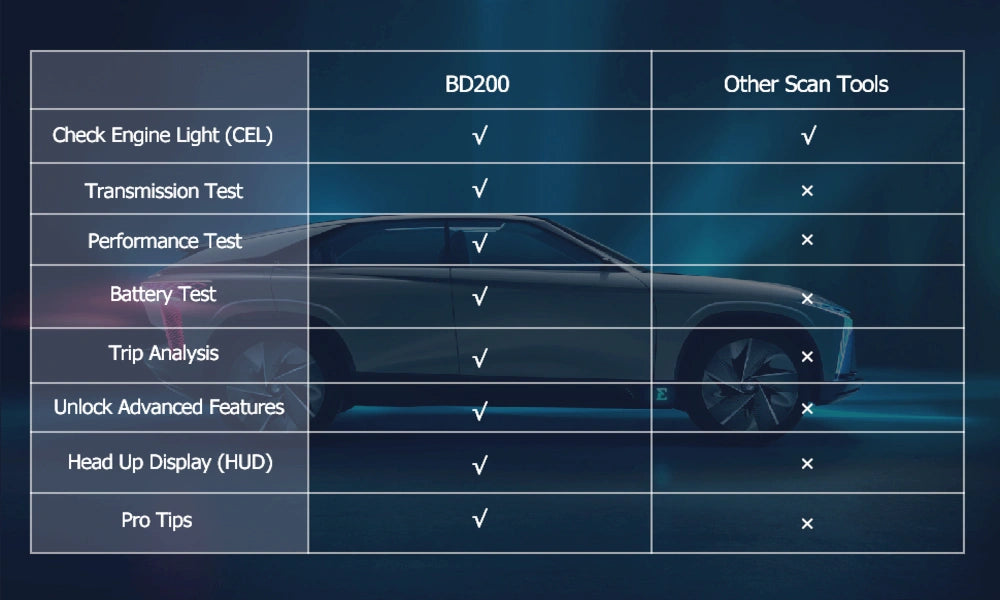 Supports 10 OBDII Test Modes
Read Codes and Clear Codes: Read the fault code within 3 seconds and clear the pending fault code, and turn off the engine light.
Evap System Test: Allows you to perform a leak test for the vehicle's EVAP system. Prevent vaporized gasoline vapors from escaping the vehicle's fuel tank into the atmosphere.
Freeze Frame: Get a snapshot of the vehicle when a freeze frame code has been saved.
I/M Readiness Test: The purpose of the readiness monitors is to test the emission control systems of the vehicle itself. The monitors are also known as emission monitors. Determine if your vehicle is ready for a smog test.
On-Board Monitor Test: The on-board diagnostic system consists of a computer that monitors the emission system and major engine components. It allows you to read the results of the on-board diagnostic monitoring and test specific components/systems.
O2 Sensor Test: Allows you to retrieve and view the O2 Sensor Monitor Test result for the last test performed from the vehicle's on-board computer.
Vehicle Information: This displays information such as VIN (Vehicle Identification Number), CID (Calibration ID), and CVN (Calibration Verification Number).
Live Data Stream: Reads abundant live data stream and freeze frame data to monitor the operating status of the vehicle, including the status of the fuel system, engine coolant temperature, RPM and various sensor parameters.
DTC Lookup: The device has a built-in, up-to-date OBD-II DTC library. After you enter the fault code and select the car make, the definition and possible causes are displayed so you know what the problem is and may be able to fix it yourself.

Special features you should know
Customized Dashboard: You can view various types of live data, including RPM, VSS, ECT, MAF, TP, LOAD-PCT, SPARKADV, IAT, VPWR, engine-related data streams, etc, which inform you about the operating status of your vehicle. Also, you can customise the dashboard as per your requirement.
Performance Test: Vehicle performance testing plays an important role in driving safety. This scanner supports acceleration, braking and sprinting tests, displays the duration of the test and the changes in speed and RPM in the dashboard. A PID chart is available, including the corresponding values RPM, VSS, ECT, MAF, etc. The test report is automatically generated when the tests are completed, you can view it at any time.
Trip Management: BD200 OBD2 scanner is able to provide detailed numerical analysis for each trip. You can read the coolant temperature and speed in real time on the dashboard and record the driving status, including time, distance, highest and lowest coolant temperature, highest and average speed, highest RPM, number of passing and fast braking, etc.
Battery Voltage Check: The obd2 scanner is able to determine the condition of the battery of 12-volt vehicles. It shows the change in starting voltage over a period of time in graphical form and also gives you the voltage when the engine is off, as well as the minimum and maximum voltage.
Safe Driving Alarm: This feature allows you to set an alarm for speed, water temperature, and driver fatigue time to drive safely. Once the actual data exceeds the values you set, the app will immediately send a voice alert.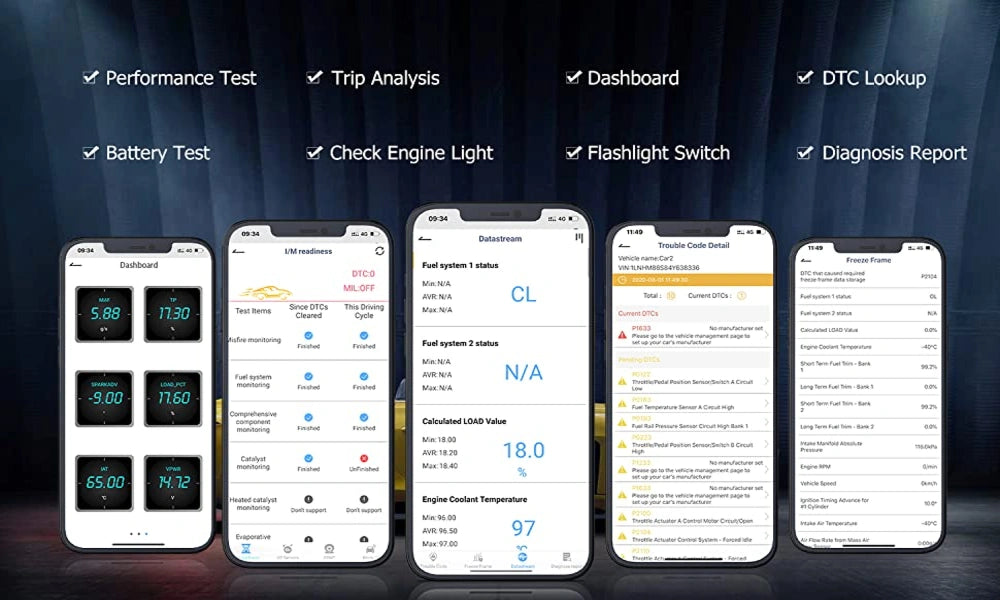 Compatible with All Brands of Vehicles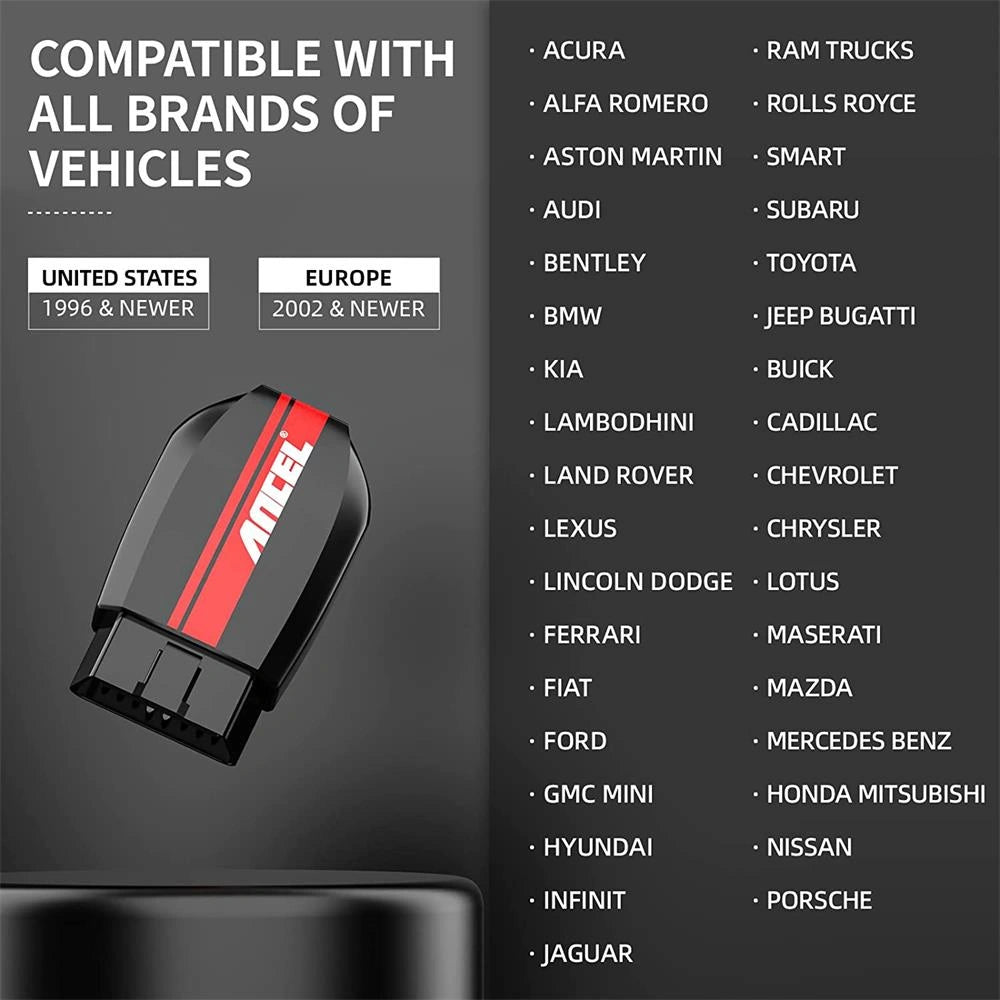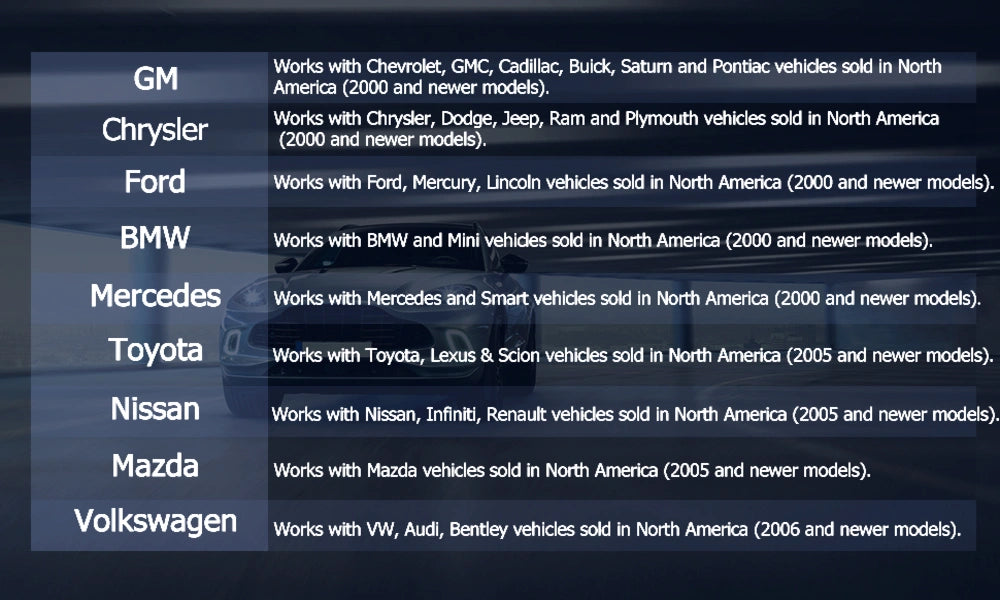 Easy To Use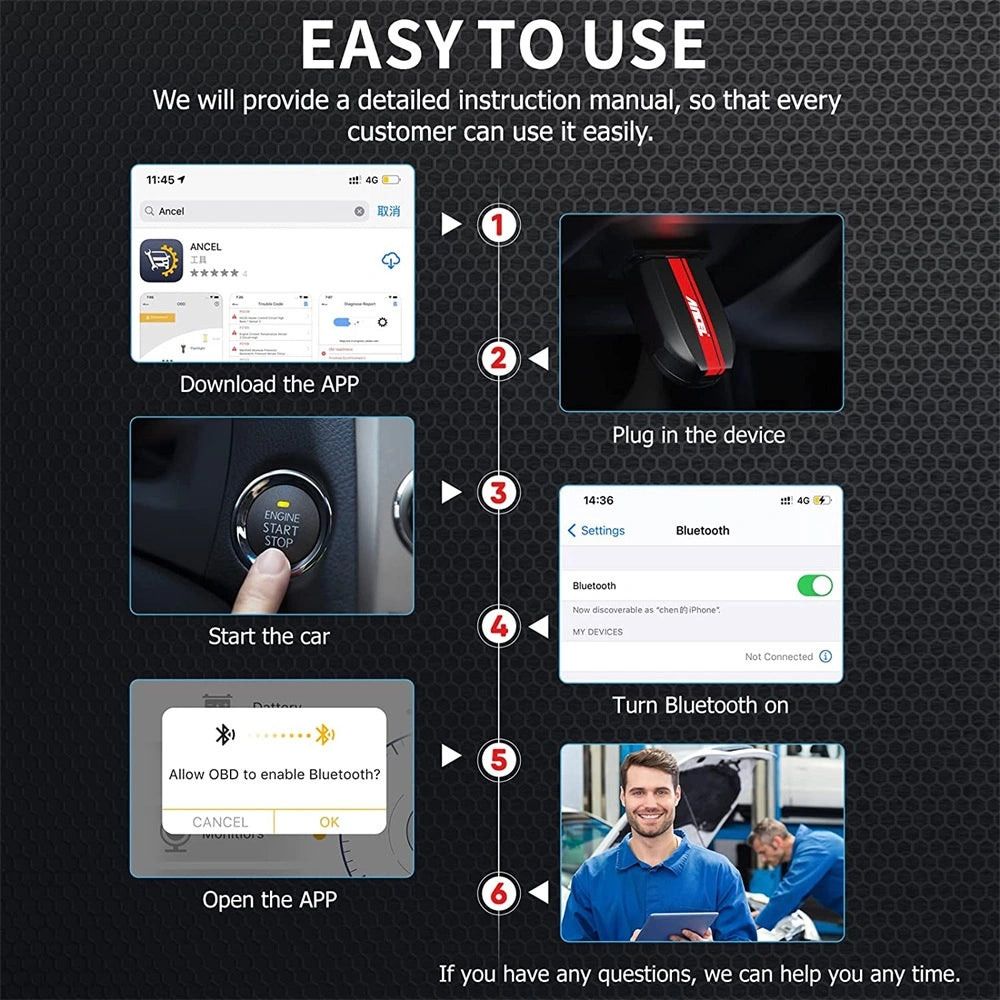 Products Displ
ay
Connection: Bluetooth 5.0
Support Device: Compatible with iPhone, iPad and Android
OBDII Protocol: ISO9141, KWP2000, J1850 PWM, J1850 VPW and CAN
Free Update: Lifetime
ANCEL BD200 Bluetooth OBD2 Scanner Car Diagnostic Tool Check Engine Code Reader