For auto mechanics, DIY enthusiasts, and automobile owners alike, an OBD2 scanner is a crucial tool. It aids in the diagnosis and repair of issues with the onboard computer system in your car. Choosing the best OBD2 scanner might be difficult because there are so many on the market. We'll go into great detail about the top OBD2 scanner's features in this blog post. The Ancel FX2000 scanner, one of the top OBD2 scanners available, will be the subject of the article.
What is an OBD2 Scanner?
OBD2 (On-Board Diagnostics) is a system that gives mechanics and automobile owners access to information about a vehicle's performance. The device that is used to access this data is an OBD2 scanner. The OBD2 port, which is often found under the dashboard, is where the scanner is attached to the vehicle. The scanner can read a variety of codes and data pertaining to the engine, transmission, and emissions systems of the vehicle once it is attached.
Why Do You Need an OBD2 Scanner?
Anyone who owns a car needs to have an OBD2 scanner. Here are a few explanations:
Diagnostic Data: An OBD2 scanner can give you important knowledge about the functioning of your vehicle. For instance, you can use an OBD2 scanner to read the code and figure out what's wrong if your check engine light turns on.
Savings: You can save a lot of money on repairs by using an OBD2 scanner. Early detection of the problem allows you to address it before it worsens.
Peace of Mind: You can better manage your car's upkeep if you have an OBD2 scanner. You don't have to turn to mechanics alone to identify problems with your car.
Now that you are aware of the benefits of OBD2 scanning, let's examine the Ancel FX2000.
What is the Ancel FX2000?
The top-rated Ancel FX2000 OBD2 scanner is made to assist mechanics and auto owners in identifying and resolving issues with their vehicles. It is a high-quality tool for professionals that offers accurate and trustworthy data while being simple to use.
Features of the Ancel FX2000
Full OBD2 Functions: The Ancel FX2000 supports all OBD2 protocols, making it possible to read and clear codes for the engine, gearbox, and emissions systems. It can also deliver freeze-frame and live data.
User-Friendly Interface: The Ancel FX2000 boasts a sizable, simple-to-read screen that presents all the information in a straightforward, succinct manner. It also offers a menu-driven user interface that is simple to understand and use.
Wide Range of automobile Makes and Models: The Ancel FX2000 is compatible with a large number of automobile makes and models, including both local and foreign vehicles.
Advanced Functions: The Ancel FX2000 contains advanced features like oil service reset, EPB (Electronic Parking Brake) service, SAS (Steering Angle Sensor) service, and DPF (Diesel Particulate Filter) regeneration.
Compact and Transportable: The Ancel FX2000 is portable and lightweight, making it simple to carry. For added convenience, it also includes a carrying case.
Relevant:What is the Best Code Reader for Vehicles
Why Choose the Ancel FX2000?
Accurate and Reliable Data: The Ancel FX2000 provides accurate and reliable data, making it simpler to identify and resolve auto-related problems.
Simple to Use: Even a novice may easily navigate through the Ancel FX2000's user-friendly interface.
Wide Range of automobile Makes and Models Compatibility: The Ancel FX2000 can be used on a variety of vehicles because it is compatible with a large number of automobile makes and models.
Advanced Features: The Ancel FX2000 contains sophisticated features that are uncommon in other OBD2 scanners. This enables you to run more thorough diagnostic checks and address problems that other scanners might overlook.
Affordable: The Ancel FX2000 is a terrific bargain for the features it delivers and is priced competitively compared to other professional-grade OBD2 scanners.
How to Use the Ancel FX2000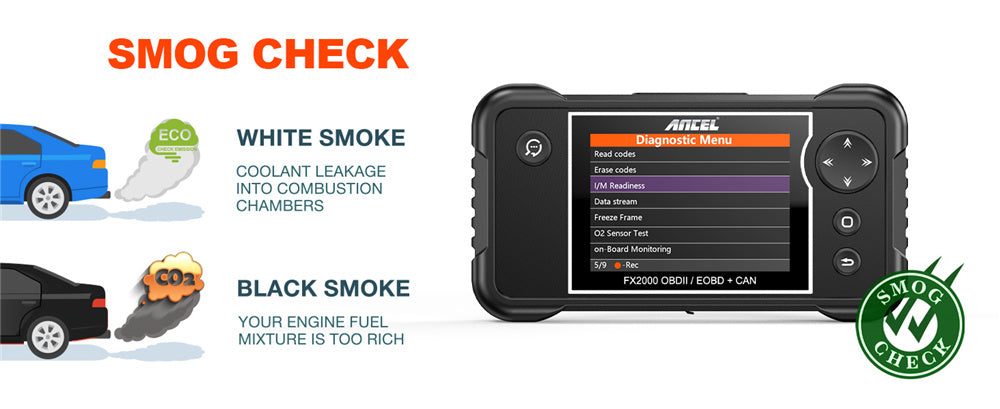 The Ancel FX2000 is simple to use. The basic steps are as follows:
Connect the Ancel FX2000 to your car's OBD2 port. The port is typically found next to the steering column, under the dashboard.
Your car's ignition should be turned on. The Ancel FX2000 will turn on as a result.
To accomplish the desired function, use the menu. Options include live data, complex features, and the ability to read and clear codes.
To finish the task, adhere to the screen's instructions.
Once finished, turn off the ignition and unplug the Ancel FX2000 from the OBD2 port.
Tips for Choosing the Right OBD2 Scanner
Here are some recommendations to assist you choose the best OBD2 scanner if you're in the market for one:
Make sure the OBD2 scanner you select is compatible with the make and model of your vehicle.
Specifications: Look for an OBD2 scanner with the specifications you require. Others offer more sophisticated features like live data and complex diagnostics, while some scanners only offer simple operations like reading and clearing codes.
Price: The cost of OBD2 scanners varies. Choose a scanner that fits your budget while yet providing the functionality you require.
Brand Reputation: Opt for a well-known manufacturer of high-quality OBD2 scanners.
Wrapping Up
In conclusion, an OBD2 scanner is a crucial piece of equipment for any mechanic or automobile owner. It gives you piece of mind, offers useful diagnostic data, and lowers the cost of repairs. A top-rated OBD2 scanner, the Ancel FX2000 provides precise and trustworthy data, cutting-edge features, and broad vehicle coverage. It is easy to use, reasonably priced, and gives a lot of features for the money. The Ancel FX2000 is unquestionably a scanner to take into account if you're looking for an OBD2 one.
We recommend for you: